Componit: from the
Latin '
Compounds'
The group's industrial context in the area of plastics, with more than 30 years, has dictated the establishment of Componit in 2014 as a production unit of thermoplastic compounds, able to respond to the constant challenges of ever-changing markets.
A strong philosophy of close partnerships with Science (Higher Education and Laboratory Research) has leveraged our business strategy: competitive and differentiated, aimed at the most demanding customers.
The contemporary view of the management world shapes Componit's entrepreneurial attitude on a daily basis: we are strategic partners of your business, much more than just suppliers of raw materials. Our employees and suppliers accompany us in this attitude, in a cohesive way.
We have formed highly specialized and proactive teams that put their skills at the service of customer satisfaction, in an approach of continuous improvement, design and development of new products and focus on challenging projects.
As a result of a mix of qualified teams, state-of-the-art equipment, group synergies and R&D policies, we, at Componit, currently present high performance levels, both in Portugal and abroad.
For all this, and much more, we are certainly your best partner in Thermoplastic Compound solutions.

Numbers
35000
Tons/Year of
installed capacity

2006
Starts the production and trade of masterbatch commodities in
PE, PP and PS

2014
Produces and markets thermoplastic compounds

2018
The production and trade of masterbatchs extends to PE, PP, PS, PET,
ABS and PC specialties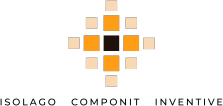 2019
Merger of the ISOLAGO and INVENTIVE production and marketing units of masterbatch commodities and PE, PP, PS, PET, ABS and PC specialties